Future-proof through digitization
Enable your customers to pay directly at the pump using their smartphone, smartwatch or their car's on-board computer. Benefit from a wide range of advantages: Shorter waiting times, relaxed store customers and more.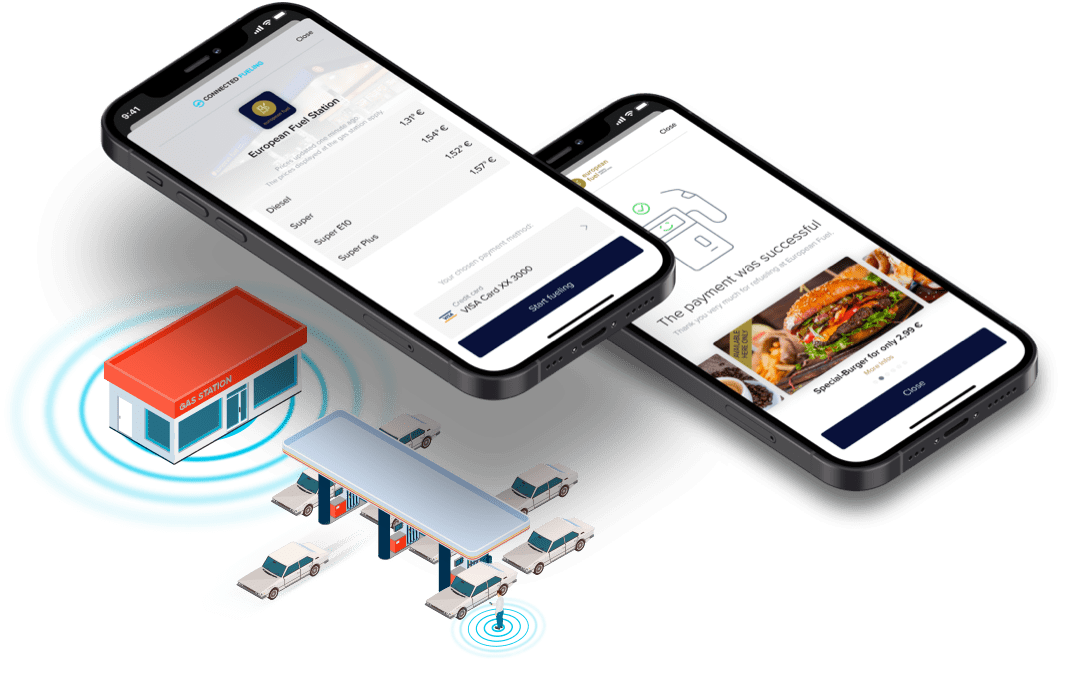 Our service for gas stations
Your payment …
can be implemented with your payment method or simply via PACE Pay (PayPal, credit card, Apple Pay, giropay and more) in the pre-auth or post-pay model.
Your brand …
is consistently realized throughout your customers' experience.
Your shop products …
and services are marketed through targeted cross-selling.
Your customer loyalty …
is ensured by integrating existing customer loyalty programs.
Advantages for gas stations
Plenty of reach
Position your modern brand, products and services with Connected Fueling to reach your customers.
Loyalty
Innovations like contactless payment make life easier for your customers and keep them loyal to your brand.
Efficiency and flexibility
Optimize customer flow at your stations, increase customer satisfaction and open unmanned 24/7.
…
Connected Fueling is available in
…

countries
…
gas stations are already live today
…
gas stations will be available soon
Pay with your smartphone at many gas stations of these brands and more:












Use this map to find participating gas stations near you:
With us you are in the best company





Technologically leading platform in Europe
Integrations with POS systems
Many of the common point-of-sale systems in Europe are already connected to the Connected Fueling platform (e.g. Huth, Hectronic, TaskSTAR), and we are continuously working on further integrations. For our gas station partners, the technical effort to connect to our system is very low.
Connecting via hubs and aggregators
Our Connected Fueling platform is fully integrated with payment hubs and integrators such as Ratio Global Office, WEAT Mobile Payment Hub (MPH), and MobyPay.
Open interface PACE OpenFSC
The PACE interface "Open Fueling Site Connect" (OpenFSC) is available as an open source API free of charge to the entire industry. It is used by our partners for easy and fast connection to the Connected Fueling platform. Currently, e.g. TaskSTAR and Ratio Global Office are connected via the OpenFSC.
Our acceptance network is growing!
Become part of Europe's technologically leading platform for mobile payment at the gas station!
Contact us
Ready for Connected Fueling


… and more
Reference projects
Digitizing the HoyerCard
Digital fuel card in partner app
For our partner Hoyer, the HoyerCard was digitized on the basis of the Connected Fueling platform and integrated as the first fuel card in the PACE Drive mobile app as a payment method. In a second step, we worked with Hoyer to integrate the digital HoyerCard into the Hoyer Energie app, which can now be used by all Hoyer customers for mobile payments.