PayPal and PACE Telematics advance mobile payment at gas stations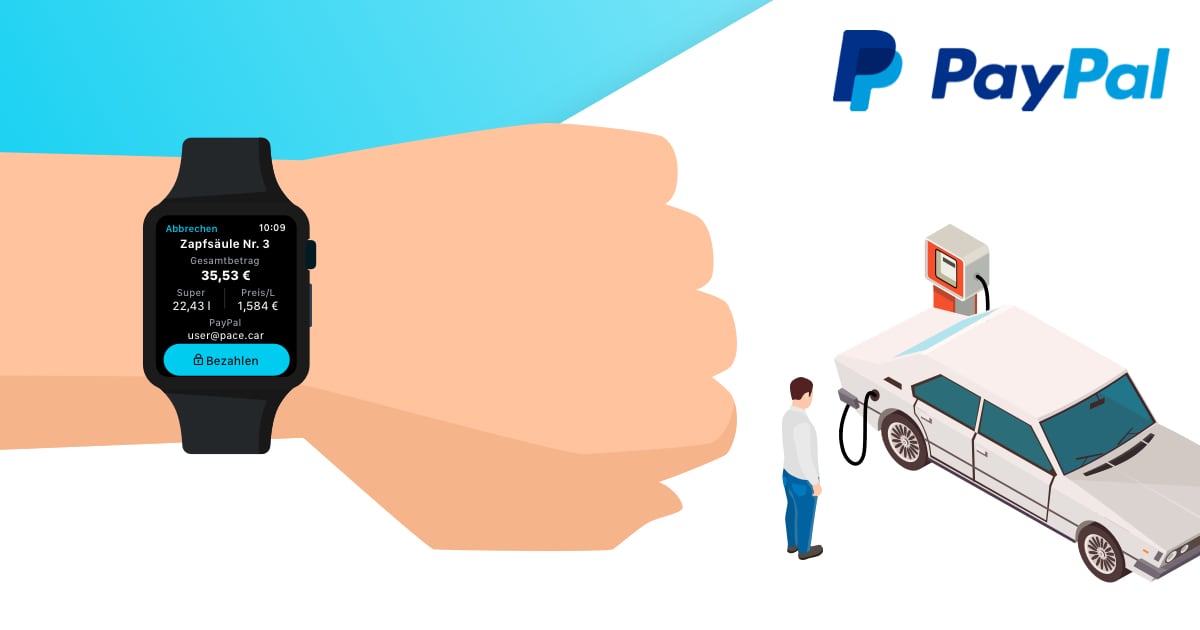 Pay safely with PayPal and your smartwatch directly at the fuel pump. Mobile payment has become the norm. Together with the technology industry leader PACE Telematics, PayPal now enables mobile payment directly at the pump, not only with the smartphone, but for the first time in Europe also with the Apple Watch or Android smartwatch.
The payment process on the smartwatch is also easy, fast and secure: After arriving at the gas station, the PACE Drive app automatically recognizes that mobile payment is possible here. It then only takes three steps to pay with PayPal at the gas station: First, the gas pump is selected on the smartwatch, then paying with PayPal is confirmed, and finally the transaction is authorized. After refueling, you can continue driving right away – and all of this directly at the gas pump, without waiting at the cash register. The fuel receipt is stored digitally in the app.
Paying with PayPal and smartwatch is already possible at more than 1,000 service stations in Europe, including BayWa, Hoyer and team energie. The network of acceptance points is growing continuously. Connected Fueling is an open and independent platform that can be easily connected to all common point-of-sale systems. It can also be integrated with other apps, allowing providers to extend their own digital apps with the full functionality of the Connected Fueling network.
Mobile payments and digital transformation continue to gain ground and it is hard to imagine everyday life without them …

Philip Blatter, Managing director of PACE Telematics GmbH
"Over the past two years, the importance of contactless and mobile payment methods has increased. Innovative approaches are also in demand to pay at the gas station. With PACE Telematics, we are pleased to enable our PayPal customers to make simple and mobile payments via smartphone and smartwatch directly at the pump," says Jörg Kablitz, Managing Director DEATCH at PayPal.
Philip Blatter, one of the founders and managing directors of PACE Telematics, adds: "Mobile payments and digital transformation continue to gain ground and it is hard to imagine everyday life without them. For a long time, PayPal has been one of the driving forces when it comes to digital payments. Together with PayPal, we enable our customers to pay in the way that is easiest and most secure for them. We look forward to expanding our valuable collaboration with PayPal even further in the future."